"We really love the room, it is nice and warm and cozy.  The crew was very professional and neat, we would recommend Calendar to anyone."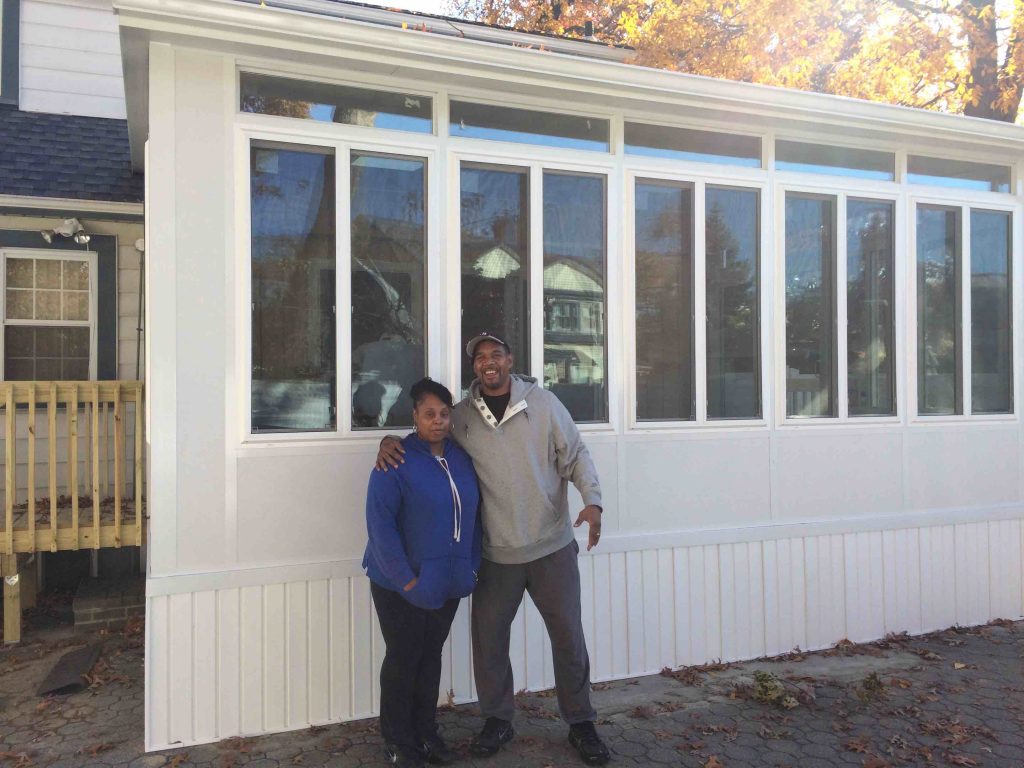 – Greg and Darlene Edwards, Valley Stream, NY
"My husband Paul and I couldn't have been more pleased. What we expected was just a shell added to the house, we have had so many neighbors come up just to see it because it was such a natural attachment to the house. When you look outside it is like you are right up in the trees. Honestly we could not be happier as it has become a focal point to the whole house."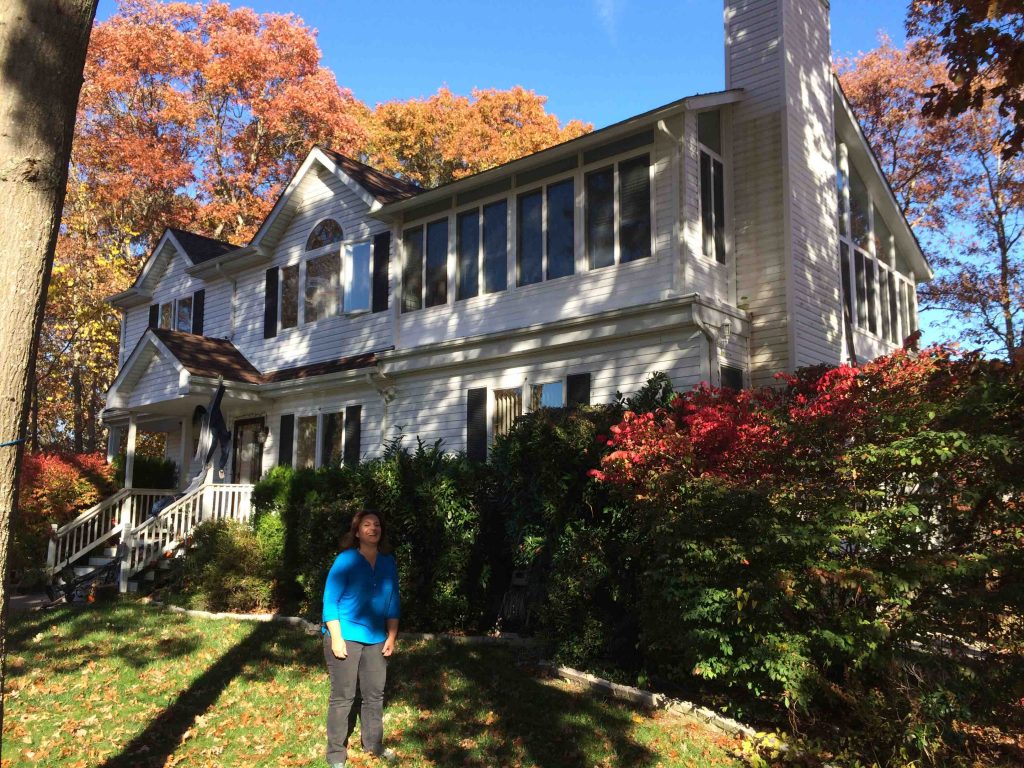 – Kim Taylor, East Patchogue, NY

"The crew was neat, clean and the quality of the the materials was unbelievable. I am ecstatic with the room, best money I ever spent on my house."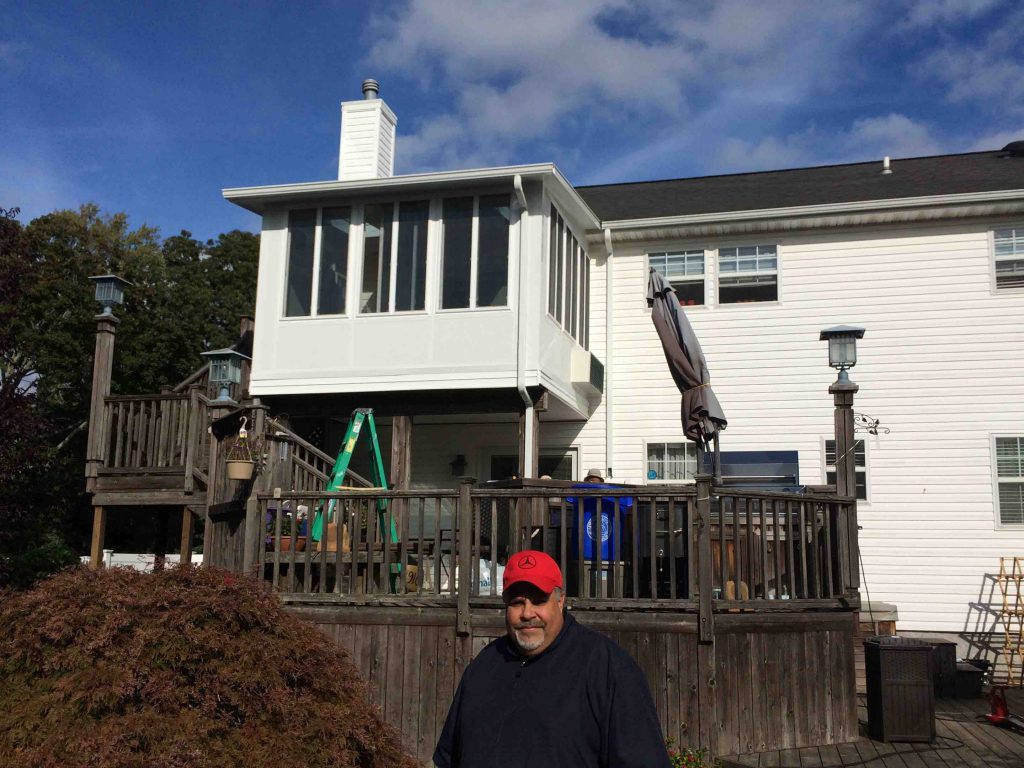 – Scott Mcintosh, West Babylon, NY
"I was referred to Calendar by my friend and I went down check out a price. I was amazed that for just a few thousand dollars more than the cost of repairing my old room, I was able to get a brand new one and could not be happier with the result. I would recommend Calendar to all my friends."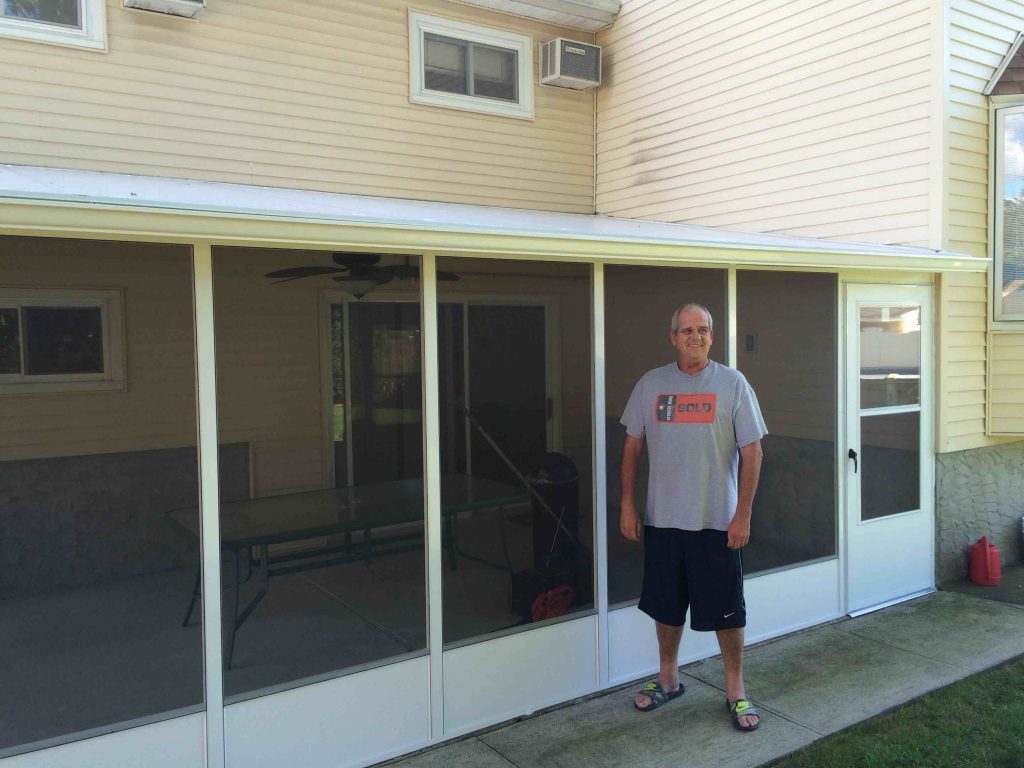 – Doug Czarnecki, Massapequa, NY
"I am very happy, my family and I couldn't be more pleased with the room and we will recommend you to a thousand people. I am going to tell all my friends about what a wonderful job Calendar did."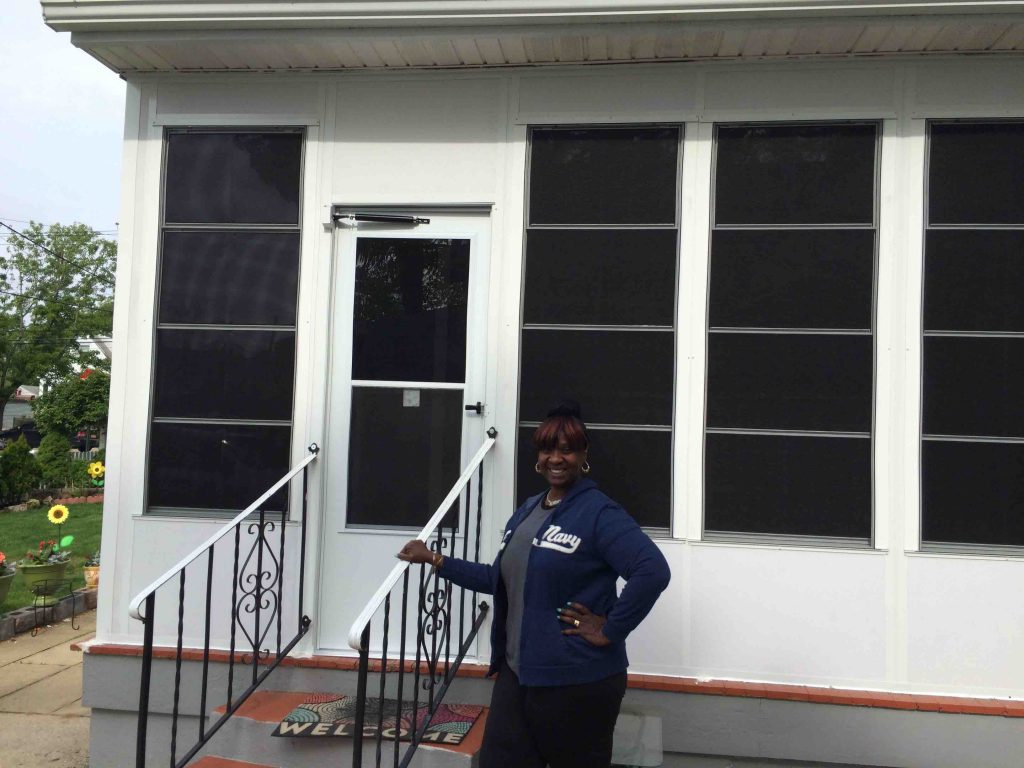 – Sally Edwards, Valley Stream, NY
"Crew was on time, efficient. My wife has been looking forward to a room for many years and loves it.  Neighbors have been over and are very impressed."
"The room came out fantastic, better than the one damaged by Hurricane Sandy. The men did a great job and I would recommend Calendar to any of my neighbors."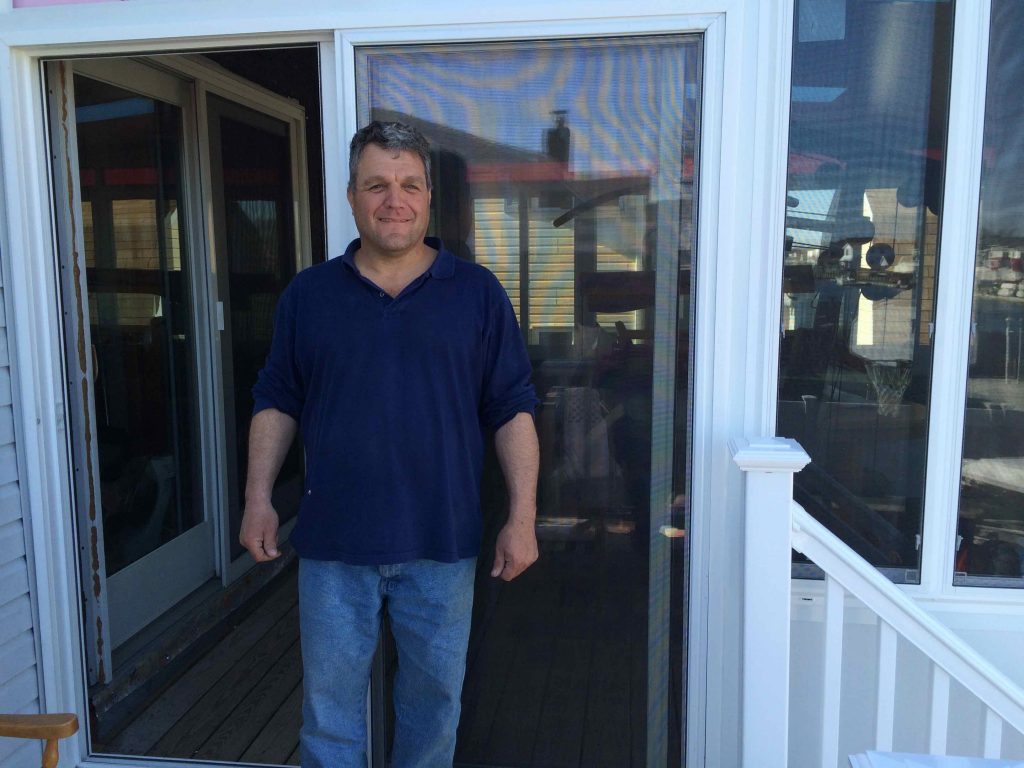 – Robert Spinelli, Massapequa, NY
"The men did a great job, everything is beautiful, they were professional, fast and cleaned up everything.  We are very happy with our Sunroom from Calendar."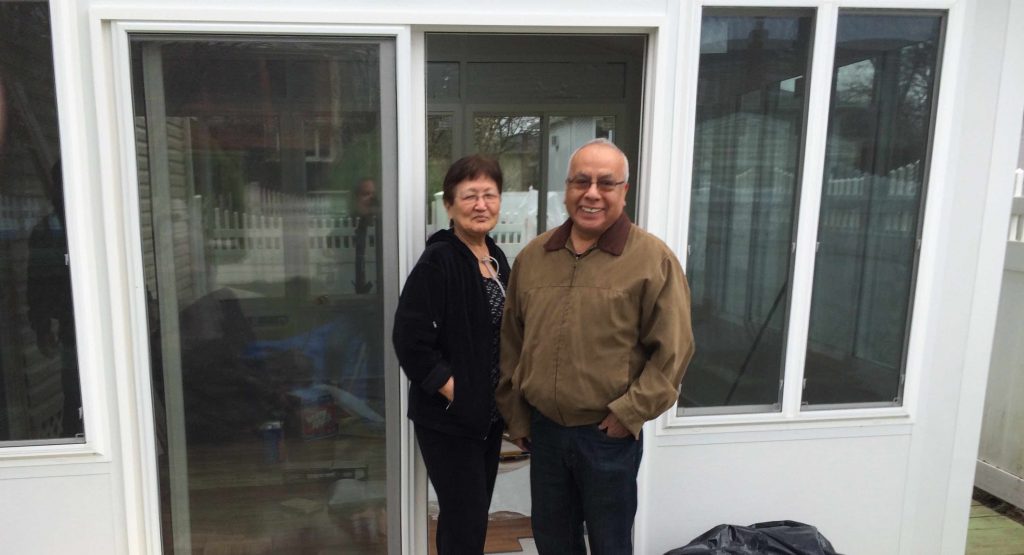 – Mr. and Mrs. Pedro Romero, Lindenhurst, NY
"These guys were very professional and fast. The crew never took a break, and what a beautiful result! Now I can enjoy my wonderful view."
"My sunroom is the best! I couldn't ask for a better installer.  They were very neat, knowledgeable and did such a wonderful job, I love my room.  I would recommend Calendar Sunrooms highly, any day, and tell all my friends and neighbors about what a great job they did."
"From beginning to end , the professionals at Calendar handled everything well.  From the construction to the follow up they surpassed my expectations.  I would be recomending Calendar Sunrooms to any of my friends and family."
"I was impressed by how professional and efficient the installation team was. They were very clean and I'm very satisfied with the way everything was handled.  I'm looking forward to enjoying the view from my new room.  I wouldn't hesitate to recommend Calendar Sunrooms to all my friends."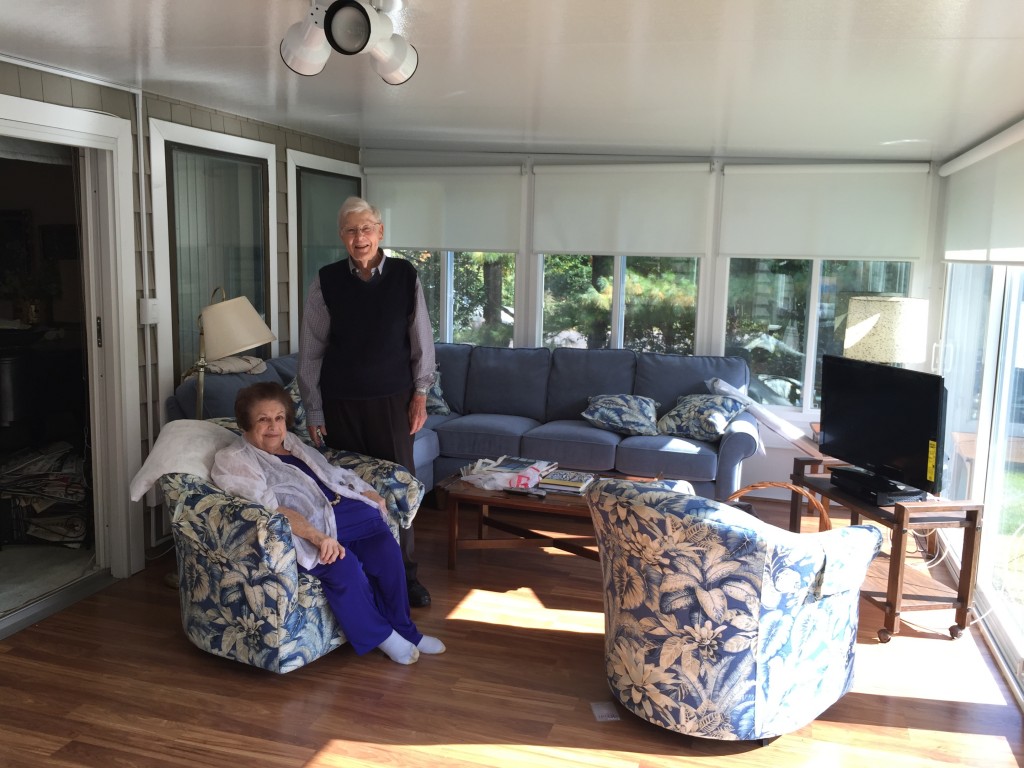 – Irving and Marge Like, Bay Shore

"Overall, my experience with Calendar Sunrooms was really good.  You guys put up my room promptly and went beyond my expectations.  I would definitely recommend Calendar Sunrooms to anyone who asked."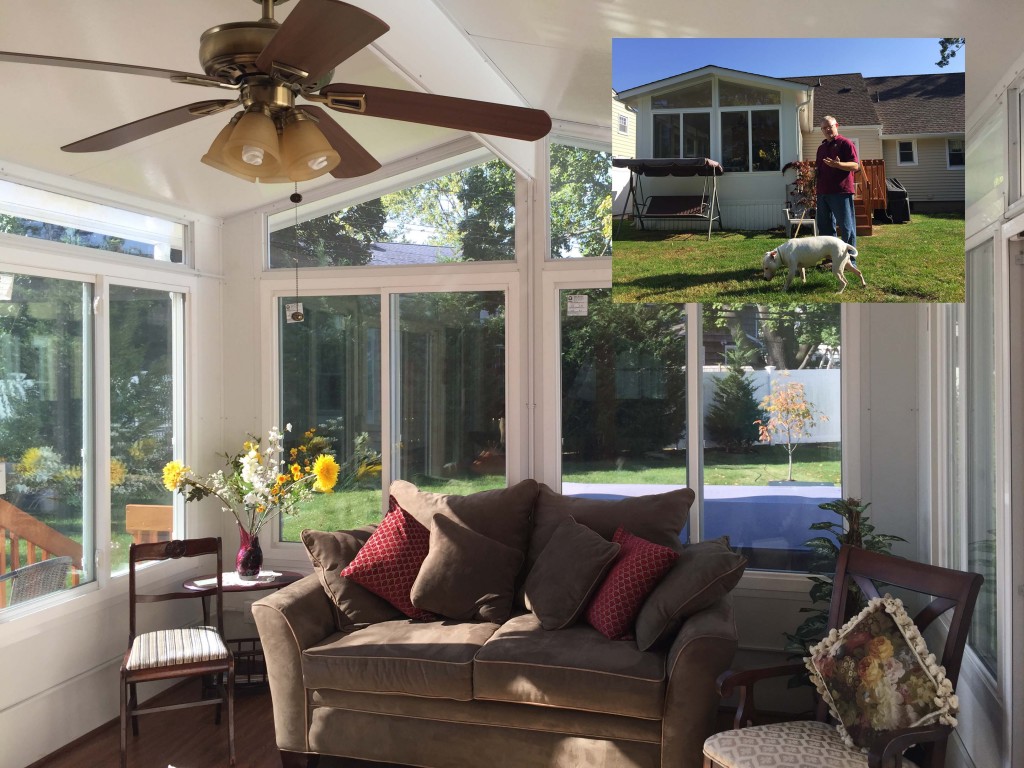 – Gus Juhlin, Hicksville

"I love my beautiful patio sunroom.  I'm going to enjoy it very much, it's beautiful.  The guys who put it up were very nice and respectful.  I'll tell my neighbors about Calendar Sunrooms when they come over."
"The experience was fabulous from beginning to end.  The crew came in very knowledgeable, took care of everything, cleaned up everything.  In two days they had the job done, I love it.  I feel like I can live out here all year round, which I can and we've got air conditioning for the summer and heat for the winter.  The room is great and I would recommend a Calendar Sunroom to anyone."
"The room went up great. It was so easy working with you guys. It came out really great. I would recommend you guys to anyone."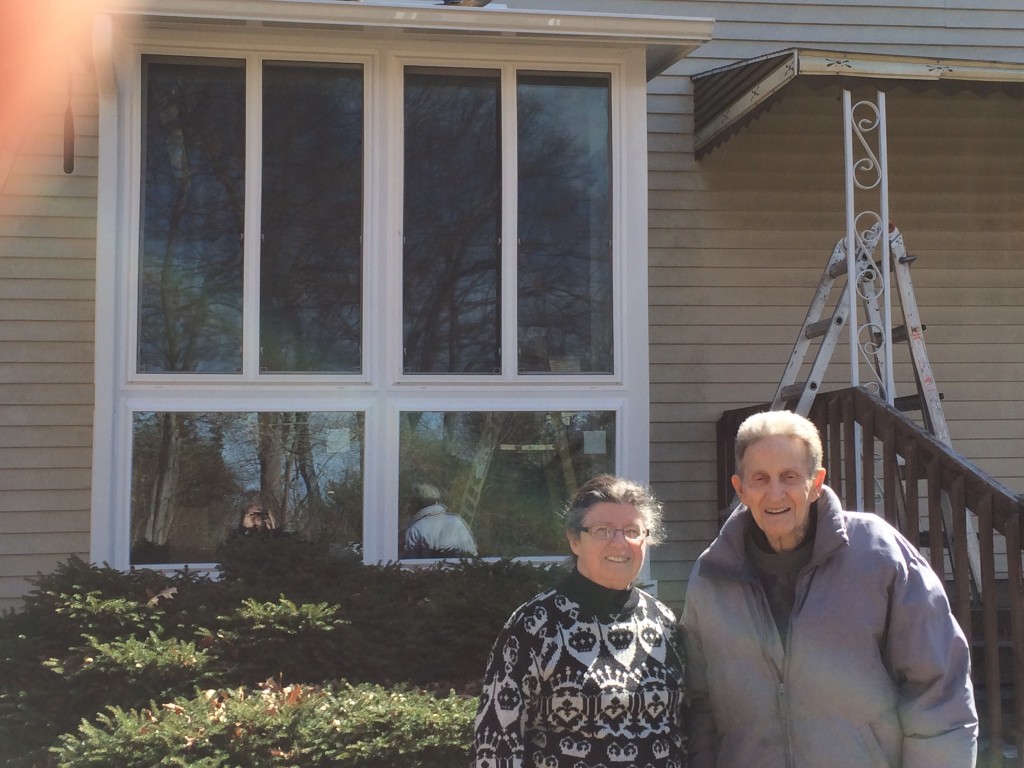 – Mr. and Mrs. Perry Klein, Northport

"The job is great, it was done really quickly and I am thoroughly satisfied.  I would recommend Calendar Sunrooms to all my neighbors."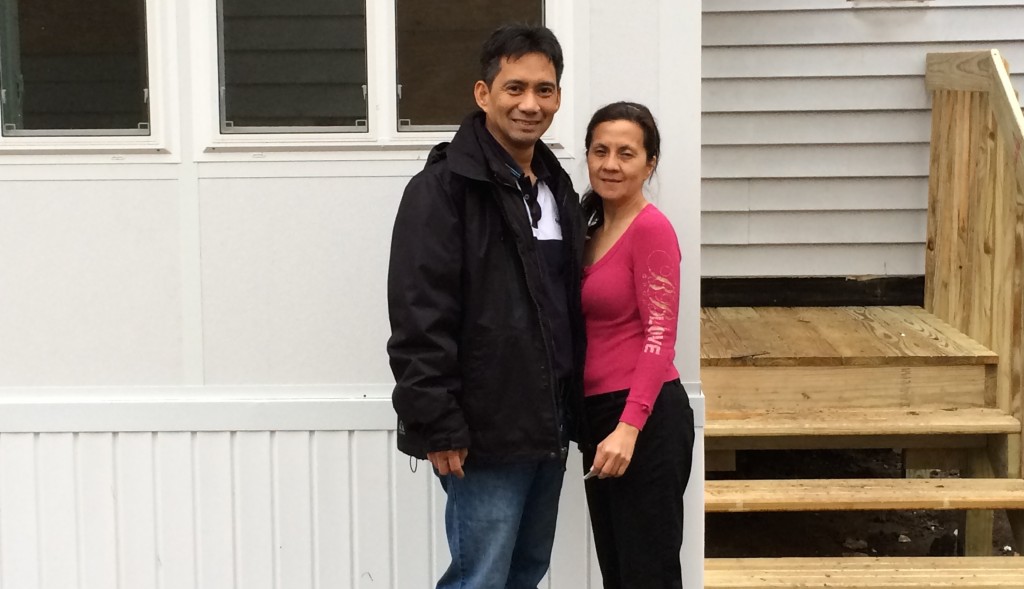 – Benedicto and Faye Trinidad, Syosset

"The installation went beautifully, the guys were great, couldn't have asked for a better group of fellas working here and everything looks beautiful and I would highly recommend you to all my friends."
"In two days my old enclosure was taken out, the garbage was taken away and after they cleaned everything up, they put the new enclosure up.  There were a couple of issues with the wall where the room was going that needed to be addressed that they told me about and had taken care of at no charge, where other companies may not have.  Overall I am totally excited that the experience was stress free."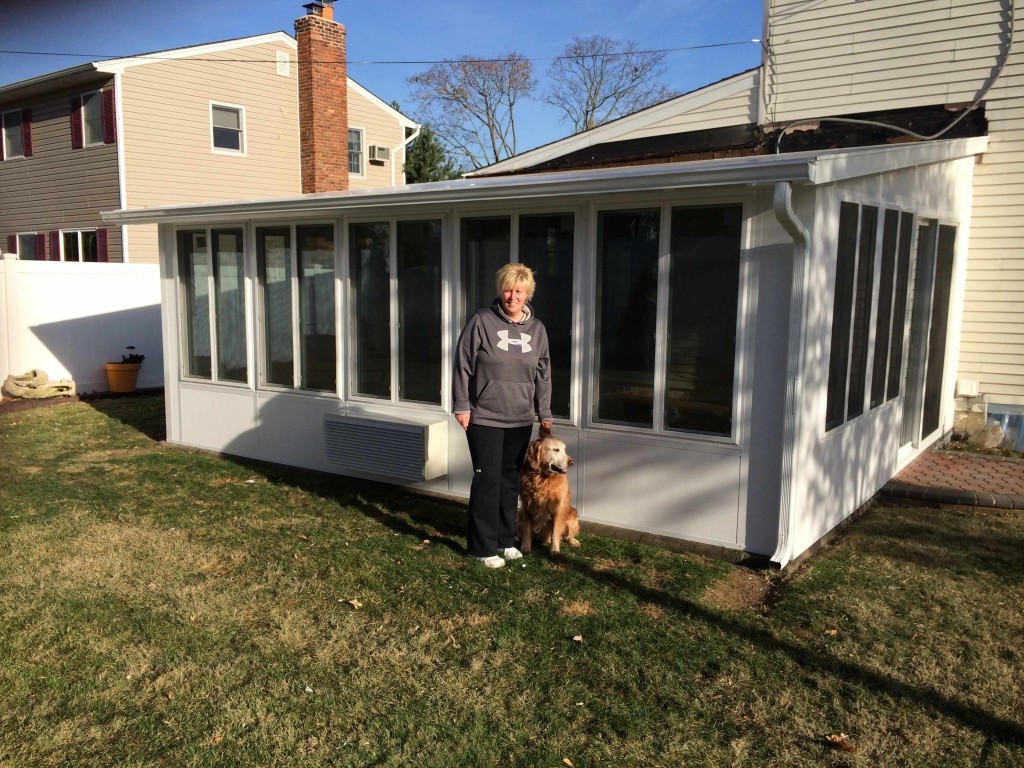 – Nancy Spiegeliere and her dog Jake, Farmingdale

"The job is beautiful, I love my new room, it's the perfect color, and the workmanship is absolutely superior.  I would absolutely recommend these guys for any new room to have built on your home."
"It was really wonderful. They put up the room in one day, and it looks beautiful and we love it! The crew was very neat and professional. The finished product is amazing!"
"I want to thank Calendar Sunrooms for coming to my rescue.  My neighbor had a room put up and I was very impressed by the quality of the room.  Unfortunately, my room was destroyed by Hurricane Sandy.  So I chose Calendar Sunrooms to build me a new room the right way so I never have another problem.  As you can see the room came out great.  Thanks Calendar for sending out a wonderful crew to get this done for me.  You guys are fantastic."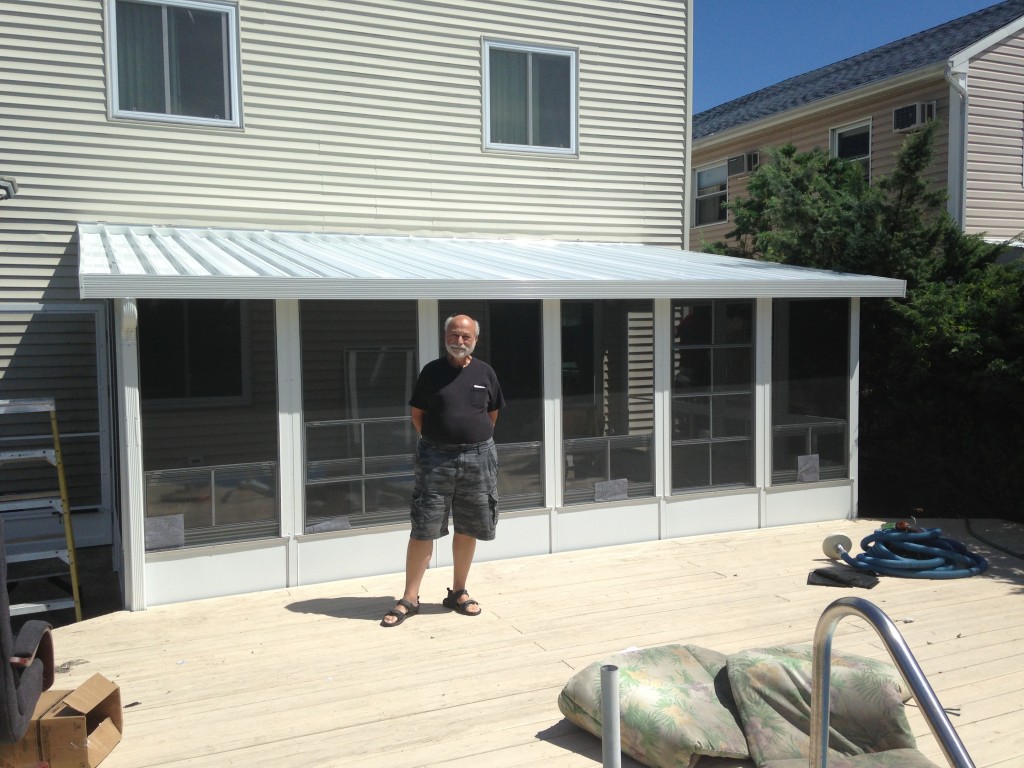 – Bob Ingber, Babylon

"Wow!!!  I never thought when they told me how ecstatic I would be with this project that it was really the truth.  The men came in the morning like i was told and promptly set up. They built my room in one day, which was 10 x 18. I was told that the electrician would follow with a phone call the day of the job and I surely got a call from Bob.  He gave me a date to do the electric work in my room, and now my room is finished.  If anybody would like to come to my home to see the work they do, contact them and arrange to come see my room. Thank you, Calendar, for a wonderful job."
         – Gabriel Garcia, Roslyn

"My wife and I went to Calendar Sunrooms after they constructed my neighbor's sunroom. We were so impressed with the job they did with our neighbor that we had to have one of our own. They tore down our old screen room and out up a new fully insulated room with heat and air conditioning.  The room size was 14 x 16.  They did this whole job in one day.  Removal and installation.  The men acted in total unison like a well oiled machine.  I would recommend Calendar Sunrooms to anybody that is interested in quality and workmanship."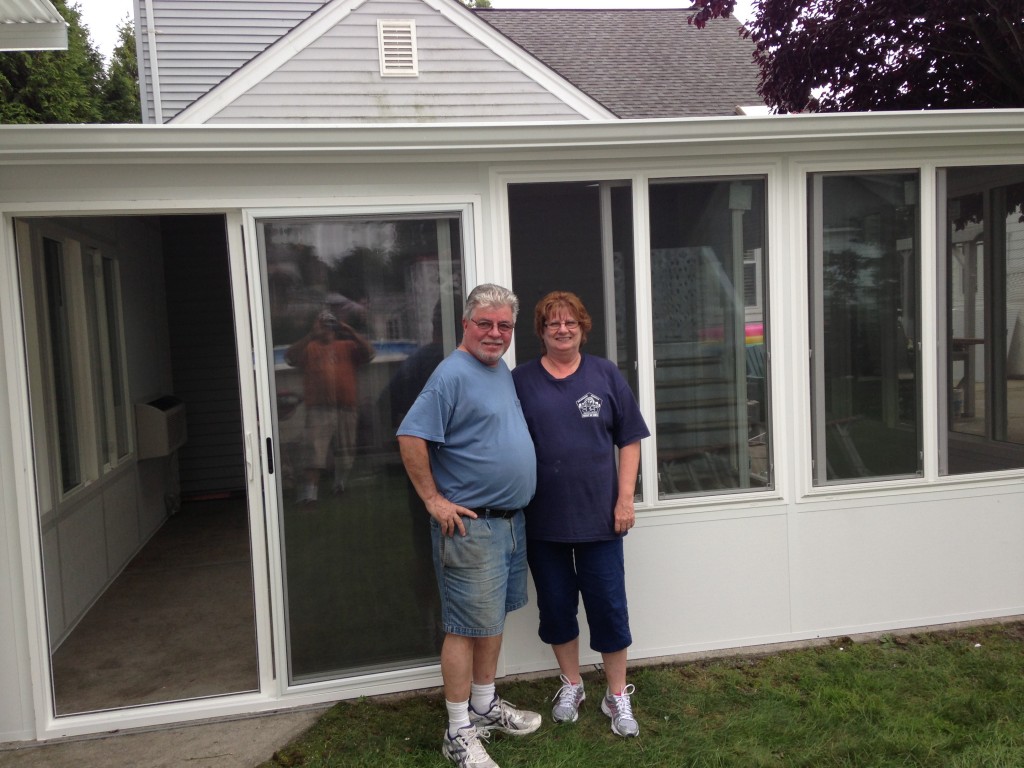 – Tony and Joan Steinle, Farmingdale

"We never thought our new room would be this nice.  Calendar did a great job.  We can't wait to have people over to show them our new space.  These guys are great and we would recommend them to anyone interested in a room like ours." "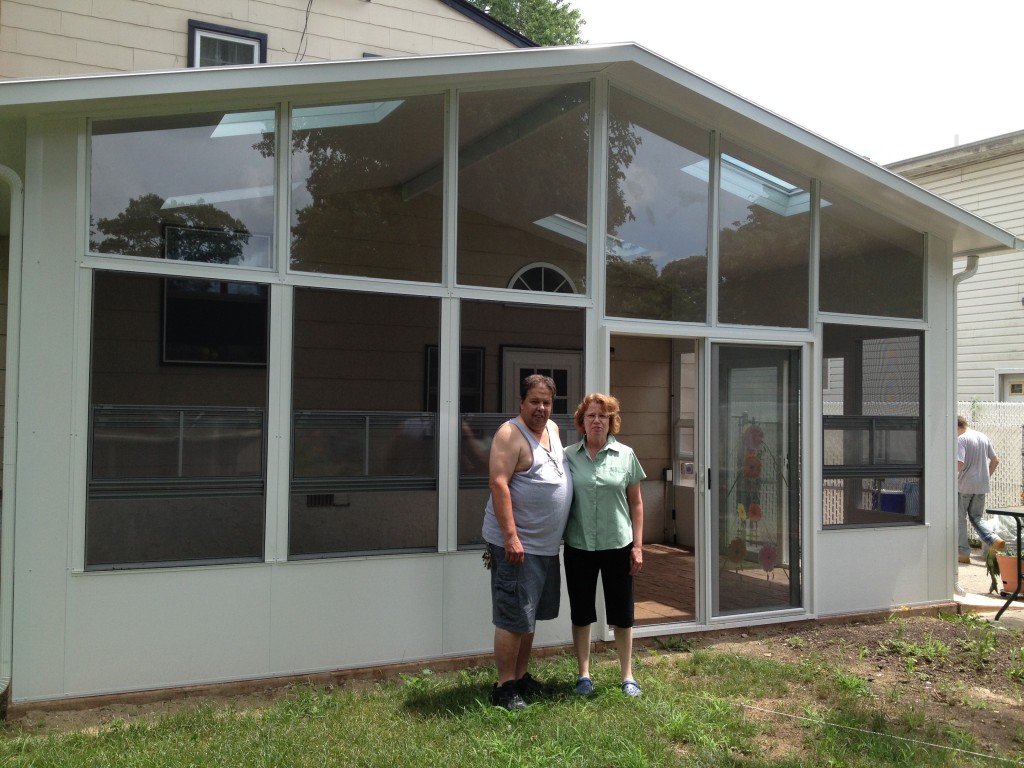 – Richard and Anna Tirch, Babylon

"I want to thank Calendar Sunrooms for building such a wonderful new addition to my home.  The whole operation went smooth from start to finish.  Tony and his crew are very professional and they had my room up in no time.  Excellent job."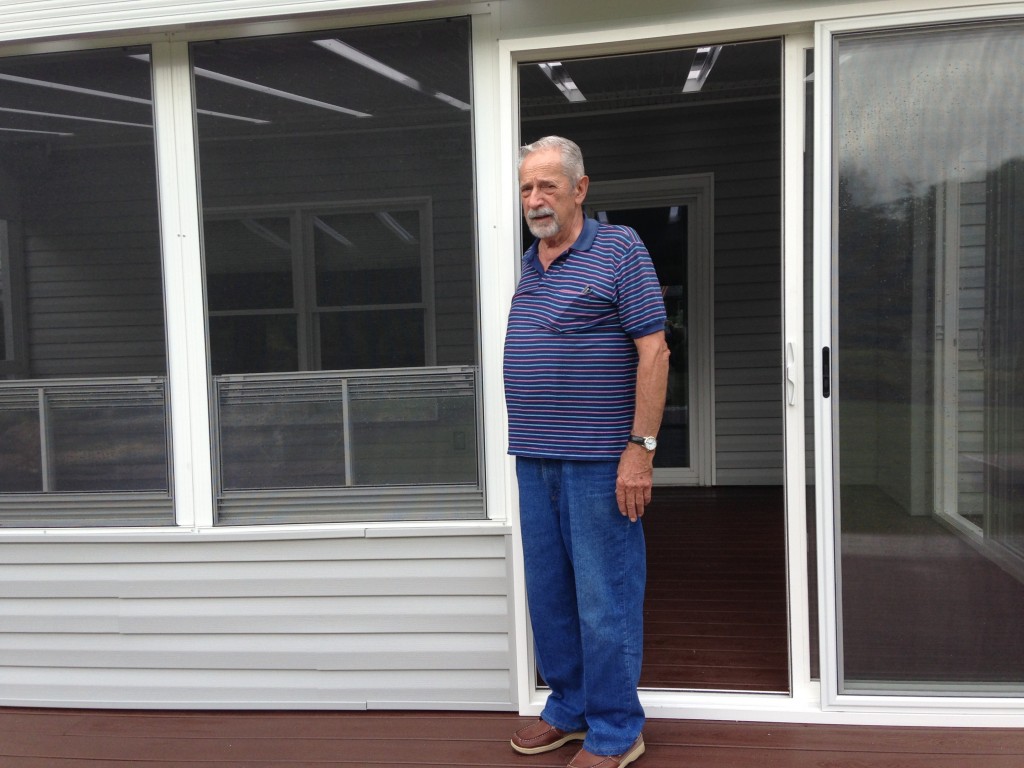 – Donald Alese, Smithtown

"I am completely satisfied with the job that Calendar Sunrooms did here.  It's amazing how quickly this job was done.  The workers work very well together, They were excellent, very respectful to one another and to us, and this job looks absolutely amazing.  I love my sunroom!!"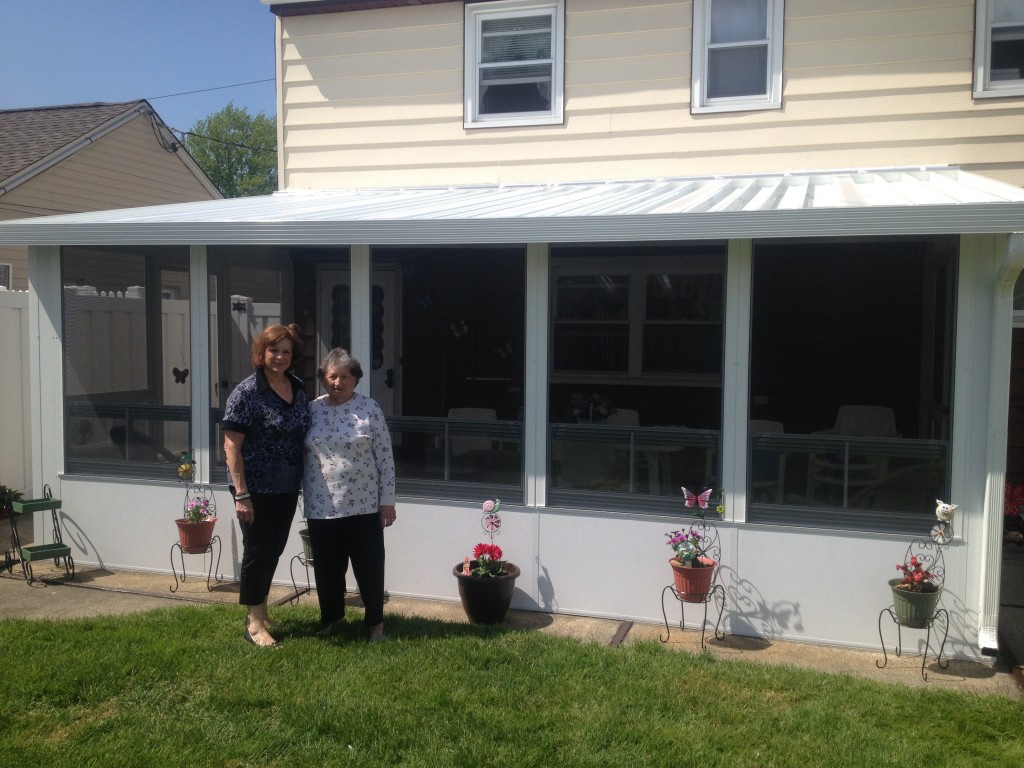 – Carmela Iavarone (with her mother), Plainview

"We love this room more than the one we had before it.  It is beautifully crafted and we can't wait to have our friends and family over to see it.  The installation crew worked fast and professionally and we are very pleased.  Calendar Sunrooms did an excellent job and we would recommend them to anyone."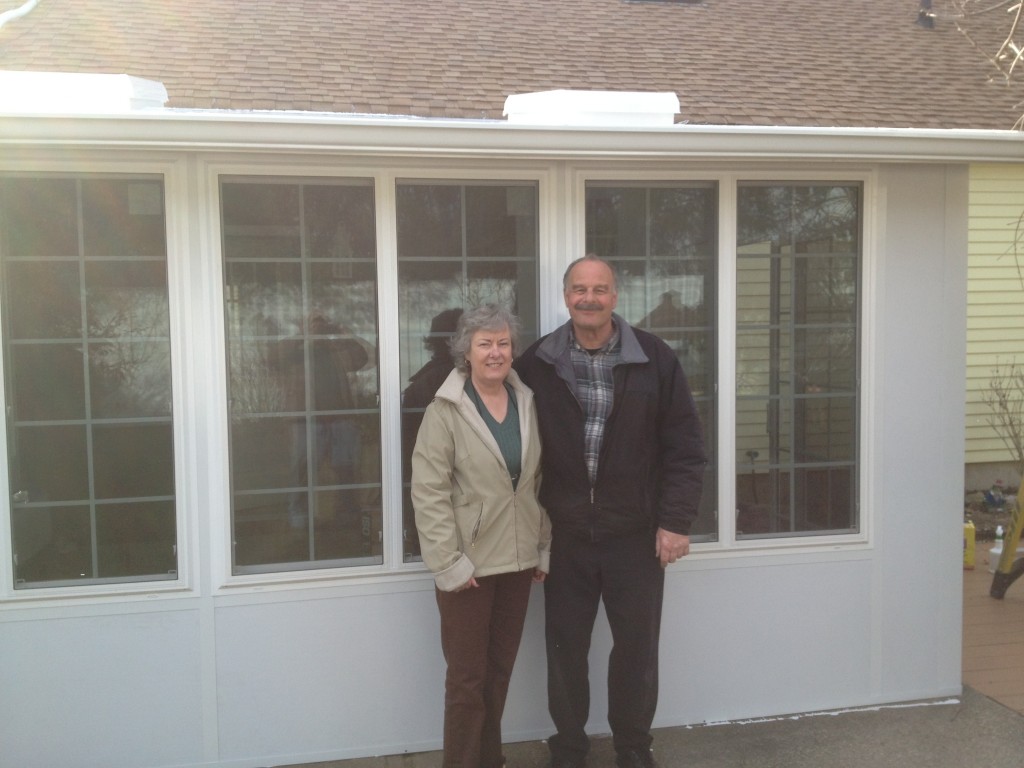 – William and Carol Dies, Massapequa

"I was very impressed with the professional level of the workers.  They worked consistently and took direction from their foreman.  They were meticulous.  I'm very impressed with the quickness, it was freezing and they never complained.  The room looks gorgeous and I can't wait to have my friends over to play bridge in my new room."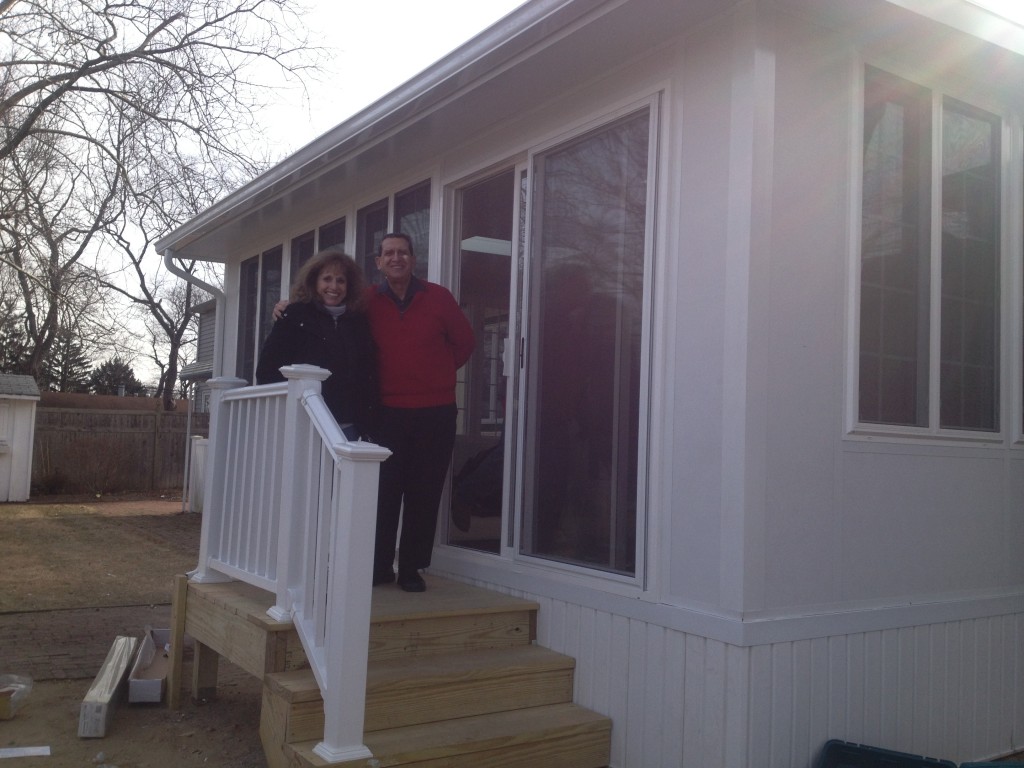 – Barbara Fertig, Massapequa

"I just wanted to let you folks know that my sunroom stood up like a fortress during hurricane Sandy. I was worried but no leaks and no damage. This has been hands down the best investment my wife and I have made to our home. Its like we added another room to the house and it is our favorite place to decompress after a stressful week at work. Thank you!"
         – Larry & Lynn Rosenthal, Oceanside

"I just want to say how thankful I am for this wonderful room that Calendar Sunrooms put up for us last week.  I'm a Lindenhurst volunteer fireman and have seen so much devastation from Hurricane Sandy, that it's a breath of fresh air to see a project go up as well as this.  This company is nothing but professional.  I would recommend Calendar Sunrooms to any of my family, friends or colleagues.  And if anyone has any doubts about these guys, call them and you are more than welcome to stop by my home and see for yourself."
         – John Rizos, Lindenhurst

"We loved this room immediately.  It is a lovely addition to our home.  Many thanks to Calendar Sunrooms and their crew for a lovely job done right."
         – Jim & Jen Maronski, Westbury

"Calendar Sunrooms did great work here at our home.  I couldn't believe how fast the crew worked and how professional they were.  They answered all my questions and took care of all my concerns.  The new space is beautiful and we can't wait to sit out there and watch the snow fall this year, hopefully.  I will recommend them to everyone."
         – Sylvia & Nat Ottosen, New Hyde Park

"We are so happy with the way our new room came out.  It is a joy to have more room in our home.  Calendar Sunrooms did a fabulous job and we can't thank them enough."
         – Seymour & Nicole Ottosen, New Hyde Park

"Calendar Sunrooms did a great job building my new sunroom!  It looks awesome and it went up in a flash.  I would recommend them to anyone."
         – Joe Lotito, Levittown
"I love this room!  It went up so fast and the crew was awesome.  They got the whole project done in just two days.  I have since decorated it and recommended a room like this to many of my friends.  My birds also love the new view they have.  I want to say thank you to Calendar Sunrooms for giving me more space to my home."
"This sunroom that Calendar Sunrooms has done for us has been the greatest blessing in our life.  We have enjoyed this room immensely, my wife and I are so thrilled with the extra space have.  They did a great job here, and this is the best room in our home.  It is the room that we do everything in now, and has become the central focus of our home.  We can't thank Calendar Sunrooms enough for they have done." – Mr. Silberman
"I just want to add to that, their product is excellent. It is extremely, extremely well built, well done.  Any of our friends that have come to see it exclaim how much better it is than many other sunrooms they have seen. We are really, really happy with their service which has been wonderful as well." – Mrs. Silberman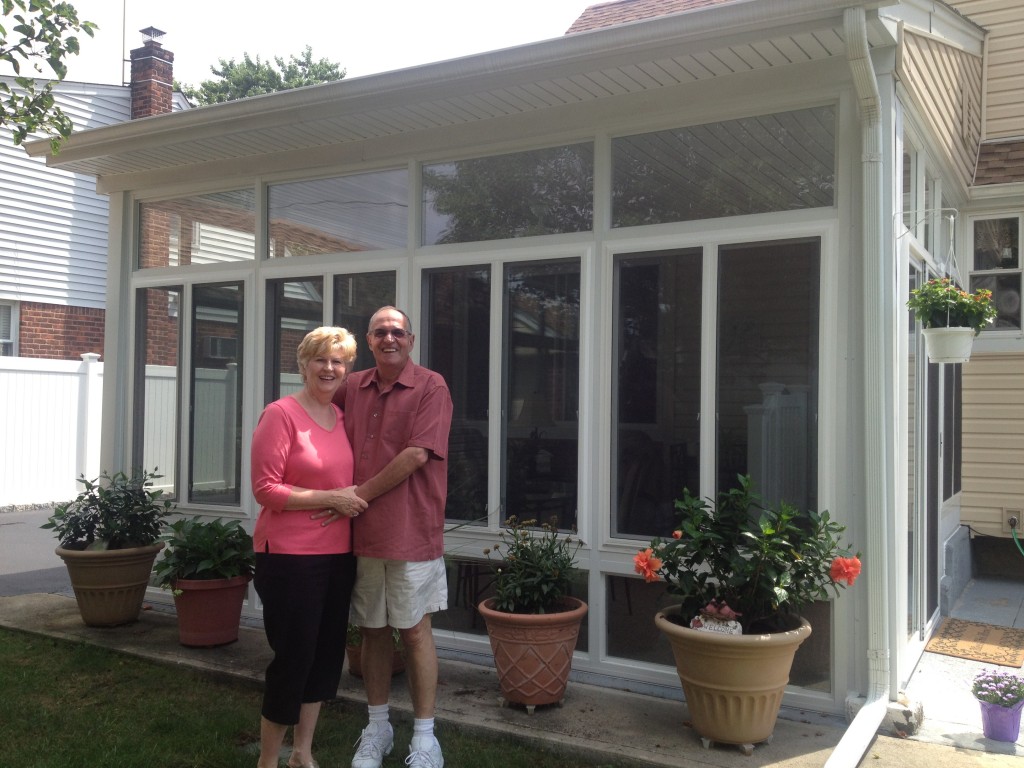 – Mr. & Mrs. Silberman, Levittown
"These guys are great.  One of the best companies I have ever dealt with.  The project went very well.  The deck and room I had installed went up fast and neat.  Thank you Tony and your crew for building me such a beautiful new addition to my home."
"We came to the showroom on a Saturday, spoke with one of your representatives and we were very impressed with the product.  We went ahead and purchased a sunroom.  We were told how the process would work and I just want everyone know that it worked to the letter.  From ripping up my slab of concrete, to laying a new one, then opening up my wall and installing French doors.  As you see in the picture Calendar built me a beautiful cathedral sunroom with siding to match my house and roof shingles.  The crew was tremendous and I just want to thank Calendar and their crew for a fantastic job."
It has been several weeks since our sunroom was completed by your Master Crew, as you know we had a slight problem with water after completion, but your "ace" mechanic Garry was able to determine the cause and proceed to correct it. I will mention that the cause of the water had no bearing on your work but was an issue that we were unaware of before the sunroom was added.
I want to thank you for being very responsive to the issue and having it attended to as quickly as you did.  We just have completed installing a tile floor and furniture in the room and it is a wonderful addition to our home.  We are and will continue to use this room for many years to come.
Several of my neighbors have asked about the room and I have recommended that they contact you.  I'm a firm believer that when a job is done correctly then the recommendations are in order.  I have been in business for over 20 years and my business is built on customer service, referrals and doing the right job for my clients and I see yours was built the same way.
Great Job! Thank you.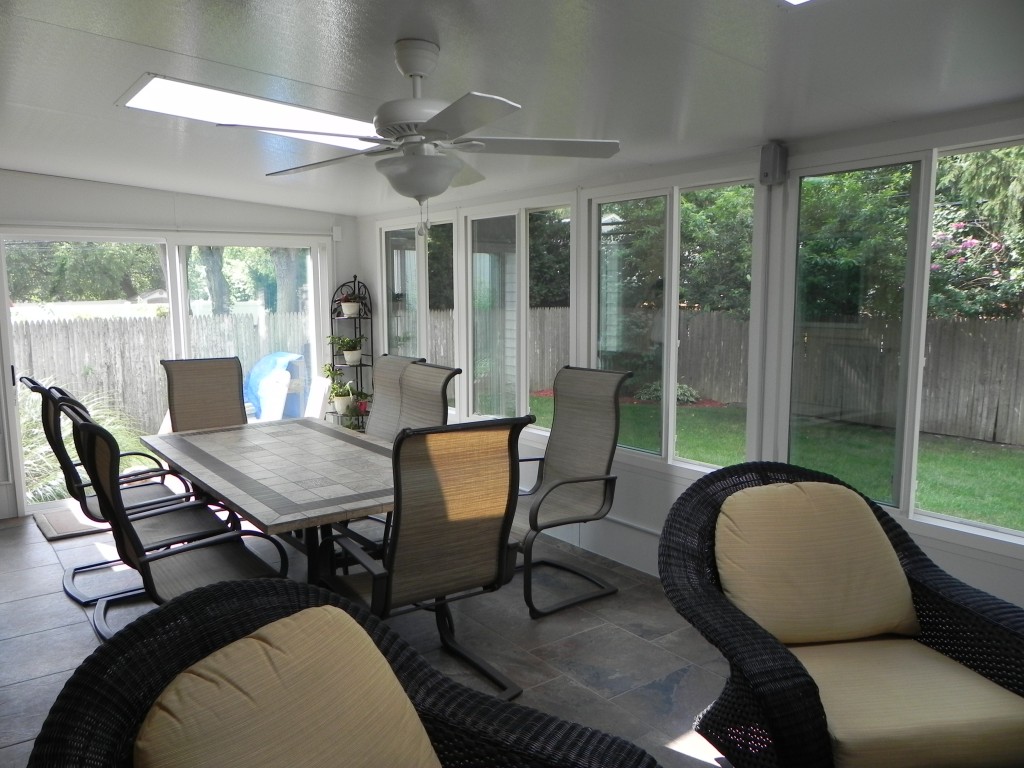 – Robert J. Catanese
"I would like to voice my opinion on the quality of Calendar Sunrooms.  I had a sunroom installed by calendar in 2005.  The workmanship and the quality of the company was nothing but professional.  And that's all easy to say but, what really makes a company is if there is an issue after the fact.  I had a sliding door panel fail for whatever reason and I called up Calendar Sunrooms because their product is guaranteed for 25 years.  And at no hesitation or questions, they sent a service man over and replaced the door at no charge. (for labor or material) Now that's a good company.  After seven years, they stand behind what they say."

         – Phil Sprance, West Babylon, NY

"I just want to thank Calendar Sunrooms for the wonderful job that they performed.  Unfortunately I had a sunroom from another company that went out of business and somebody recommended Calendar Sunrooms to me.  It was the best experience I probably could have had dealing with a contractor.  They told me from the beginning what it would be and from the picture you can see it turned out exactly what they said.  They are the most reputable company anyone could deal with.  If anybody is thinking of doing a sunroom and they need a recommendation, Calendar Sunrooms has my permission to give my phone number out.  What a wonderful job, Calendar.  Thank you very much."
"Thank you so much for the excellent work. The siding looks fantastic and the sunroom is absolutely beautiful. The crew was great and very professional. The project went from start to finish exactly as I was told that it would. If you ever need a recommendation to any of your customers or potential customers, feel free to use my name and phone number. Also posted is a picture of the finished product of the deck and sunroom."
"I really enjoy the sunroom you built for me in March 2012. First of all, let me say that I am a town official for the town of Huntington. I came about Calendar Sunrooms by a recommendation of a colleague of mine and I want to say that I have had nothing but a 100% satisfaction experience. From the time the slab was poured and to the room being installed, was nothing but a great experience. I would recommend this company to friends, family and anybody else that reads this. They are very professional. I was told this company had been around for 68 years, and know I now why. Thank you again for my gorgeous extra living space."

         – Jo-Ann Raia

"My husband and I can't thank you enough. Last spring we came to your showroom to order a screen house and without any "salesman-type" pressure you explained to us the benefits of upgrading to a unit with windows.  You helped to show us that the price would not be much more than we originally intended to spend and that the benefits would be worth it.  We stressed to you at that time that the room needed to be assembled in time for our daughter's graduation party.  You promised that even though the schedule was already packed with orders you would get the job done.  As the time grew closer to our installation date, everyone at Calendar was professional and courteous while trying to make the deadline, we couldn't be happier with their level of customer support.

I must say the process was smooth; the work was done without leaving any residual mess, when we came home from work it was as if we had the room there for years.  We love it!! Thanks to the time you all took explaining the benefits of a slight upgrade my husband and I have been able to enjoy the screen/sun room in all kinds of weather, where we certainly wouldn't have been able to had we not added the window package.

We can't thank Calendar enough. You have not just added value to out home; you have managed to give us that "on vacation" feeling every day as we sit and enjoy our new room.  Without hesitation we recommend and rave about your company to everyone that sees our new living space."

         – Thomas and Maria Bennett, Holbrook, NY


"Thanks so much for the wonderful job you did in planning and installing my sunroom. I am so happy with it. Every morning before work, I sit in the sunroom and have a cup of coffee and smile.  The room has changed the feel of the whole house and everyone who sees it comments on how stunning it is.

The room is so beautiful, even from the outside, that all my neighbors came over to see and admire it. In fact, even the Village inspector who cleared me for the Certificate of Occupancy commented that this room was the nicest sunroom she had ever seen. Now, having an inspector say that is impressive.

When I first came in to the showroom to see the rooms on display, I was very hesitant to make the investment. But now that I have, I can say that it was one of the best investments I have ever made!"

         – Diane Bachor, Freeport


"I can't say enough about the services we received. The workmen were careful, courteous and pleasant. They went out of their way to make sure that the job was done perfectly. If I had to call the office with some questions, I was treated with respect and all concerns were taken care of as soon as possible. We would highly recommend Calendar Sunrooms."

         – Veronica Omerza & Mary T. Schiller, East Farmingdale


"On Wednesday, we had a terrible storm pass through Islip Terrace. I was in my sunroom watching the storm pass through. I had to write and let you know how happy I am with the sunroom you built for us. The sunroom withstood the true test of endurance as I latter learned that a tornado had actually passed through my back yard. I want to thank you and your men for a strong, beautiful, wonderful room that I truly enjoy."

         – Shirley McCormick, Islip Terrace

"Thank you so much for my new four season room. It is everything you said plus more. Jay and I are thrilled with the design and all the details of an extra large door and bottom windows.

Your team of Tony, Jose and guys were terrific. They quickly became like family and friends in a very short time.  We can't wait for fall and winter, then again spring and summer. It has increased so much pleasure to our lives. We hope to see you again sometime soon."

         – Carol and Jay Zimmerman


"After many years of enjoying my Calendar Sunroom, I am still a satisfied customer.  You installed my sunroom 9/82. And after all these years I still love it. Thank you."

         – Lorraine Pitagno

"Thank you again for my beautiful 4 season room. We appreciate the service you continue to give us.  You stand by your terrific product and we are proud to have done business with you."

         – The Zimmermans


"We wanted to thank you for the wonderful job you did on our four seasons room.  We just love the room so much and wanted to thank you for everything. Thank you."

         – Steve and Tracy Butler


"I wanted to take a minute to express to you our thanks for the new sunroom you constructed for us.  Aside from the quality materials and workmanship of the room, the staff you sent to do the work was excellent.  Tony did a tremendous job with his crew and clearly the experience showed through.  Vaughn also was very creative in his approach to some very challenging design criteria we asked for.  And last but not least, Garry was passionate about his work and the quality of his workmanship was apparent to even the most casual observer.

The room is everything we thought it would be and then some.  We expect to spend many happy hours there and with the beauty of the room, we expect to enjoy it for years to come."

         – Vivian & John D'Amore


"My husband and I want to take the time to let you know how pleased we are with the room that was constructed onto our manufactures home in Riverhead.  The service that we received from everyone involved was excellent.  From you, Brian, Tony, the workers (Jose and Hector), the roofers and the electrician no one could have been nicer, neater or more capable and efficient.

The room is beautiful and we cannot wait to fill it up with furniture so we can entertain in it or just sit in it and watch the beautiful scenery around us.  It also has given us the extra storage area so greatly needed.

Thank you again, we will continue to recommend Calendar Sunrooms to everyone."

         – Carol & Jim Lee, Farmingdale


"As a homeowner I have had many people do various types of work at my home. Sometimes it goes well and sometimes it doesn't. Today, you were here with several men putting up a screen room. You came early, as promised, did the work, and left when you were satisfied. This sounds simple, but I really appreciate that things were handled so well. The screen room is fabulous!!  It's better than we had hoped.

From the beginning, when we came out to the showroom, to the measuring and installation, we heard no sales pitches, no promises that couldn't be kept. You were straight forward and honest as we tossed around ideas. You were also flexible with the installation date that kept getting pushed back due to others who were not living up to their agreements. I'm not sure that I've ever experienced a less frustrating home home improvement.

So, thank you very much. When we're sitting in our screen room, relaxing or entertaining, we will be thinking of not only how great it is, but how great you were in bringing it to fruition."

         – Diana Smagler, East Rockaway


"Thank you all so very much for my beautiful sunroom! You had a lot of my nerves to calm and you did. It is something I wanted to finish for so long. I love it!  Little by little it is taking great shape. I try to be out there every day for some peace. Everyone who has seen it is in awe!"

         – Maureen Treston, Holbrook


"We purchased our sunroom from you last summer, and due to a mild winter we were able to enjoy it all year. We even put a TV in there and are using the room daily as a den. Love the workmanship! Have recommended to our neighbors, friends and relatives. Best addition we ever added! Thank you so much."

         – Karen Weaver, West Babylon


"I now understand why you have been in business for 67 years. You do an outstanding job of taking care of your customers. My purchase from you was 26 years ago and you still sent a gentleman to service my lock. You went over and beyond what one would expect of your service.  Garry did such a great job that my door is once again like new. I am hoping to enjoy my sunroom for another 26 years (that would make me 105)."

         – Lorraine Pitagno

"It was great to talk to you again.  It was in the spring of 1998 when you installed our 24×14 foot Florida room. You were as helpful today as you were back then.

After 8 years Paul and I are still thoroughly happy with that room.  We had it carpeted, hung curtains and since we use it all year round we don't really consider it the traditional Florida room.  Over the years anybody who has come to our house has marveled at it.  They all say it was the best investment we ever made.  We have also referred friends to you.

Because of the thickness in material it does not take long to heat.  We actually had bought two small electric heaters but once it gets warm we usually maintain with one, or it gets to hot.  When relatives or friend visit we use it as an extra bedroom.

I was very surprised that you had remembered us. When we added that room to our cape Cod style house, it was just one room but its use makes us feel like we doubled our living space.  With to teenage sons it really has come in useful as a family room too.  When they go swimming they usually relax in the room watching TV or playing cards.  In the evening we open all the windows and get the breeze – and are not dealing with the bugs.  It has just been a wonderful investment.

I am so happy that we trusted you then. But most importantly that your customer service has not changed."

         – Laurie Bahna


"I must take this opportunity to thank you and your efficient, fast, working staff for the excellent job on my new sunroom. I virtually live in this new room!! The new gas fireplace I installed makes it wonderful even in the dead of winter. We have begun to put our Christmas tree in this room and spend our holiday in there.

During the summer, I enjoy the sun while my AC keeps it nice and cool. The vertical blinds I installed added to the beauty. I even put in a sleeper sofa so I have a place for guests to stay. It added value and a whole new dimension to my home. I always entertain in it and everyone comments on how beautiful it is.

Thank you again for making the family very happy!!!"

        – Dennis L. Cowan, Franklin Square


"We want to thank you and your entire staff for a job well done. From the very beginning when I first met you and you enlightened me on your product, to Vaughn who came out to the island to measure and answer all my questions about the construction, and to Tony and his crew who did and excellent job erecting the porch, and finally to Garry who did a wonderful job of fine tuning and touching up the job.

We would recommend Calendar Sunrooms to anyone who is interested in this addition to your home."

         – Tony & Marilyn Fazio, East Farmingdale


"Bob and I wanted to thank you and your staff for the beautiful Calendar sunroom you have built for us. It is a source of enjoyment and relaxation for us and our family. We recently had some friends over for dinner and we enjoyed appetizers in the sunroom. Our friends kept commenting on the beauty of the room. After seeing our room, they are definitely now in the market for their own sunroom. We have passed along your name and address. They have indicated they will be making a visit to your showroom in the not too distant future.

As you know we have had a few minor problems, but Calendar was always quick with a resolution. You always sent us Garry. He is a very competent, knowledgeable professional, as well as a nice person to deal with. We are confident that if there should ever be any problem in the future all we need to do is call.

Again, thank you for staying true to your word – you promised us a reasonably priced, beautiful sunroom that we would love- and you were right!  It will be our pleasure to continue to recommend Calendar Sunrooms."

        – Carol and Bob F.